BOOKS
Second English-language edition, published by Hudobné Centrum, Bratislava: completely revised, with updated information and translations, additional photos and illustrations, and an expanded bibliography and list of works.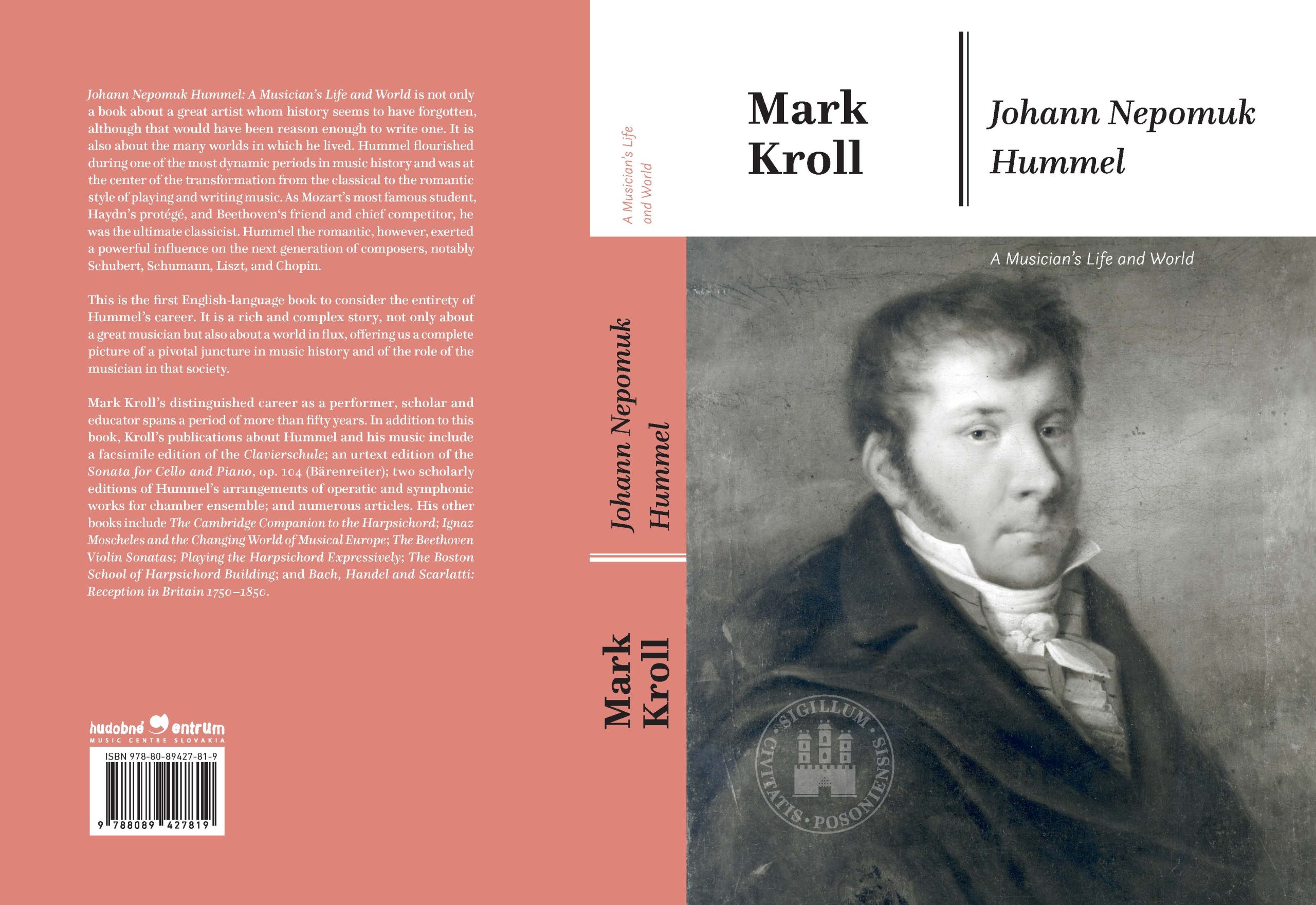 Cambridge University Press, "Elements," 2022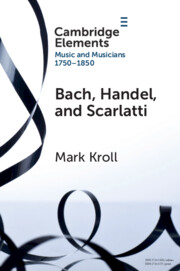 The "Cambridge Elements" series provides concise publications on a wide range of subjects, including music history. A recent issue in this series…is by Mark Kroll and deals with the reception and appreciation of the music of Bach, Handel, and Scarlatti in Britain in the century after their deaths. An interesting subject! I read this little volume with pleasure…we can only guess how these performances [of Bach, Handel and Scarlatti] must have sounded, but this book actually does give us some interesting clues…Kroll has collected a lot of information on Handel performances here, which I found very useful. The combination of all these anecdotes and references gives us a look behind the scenes of the late 18th- and early 19th-century performance practice of "ancient music."
Another interesting aspect that Kroll brings up is that the music of Domenico Scarlatti and Johann Sebastian Bach was often subjected to all kinds of "improvements" in those days. He shows, for instance, how Amrose Pittman altered and even extended Scarlatti's Sonata in D major K 29. This was done by Pittman with the best of intentions but to us still feels like an almost shocking thing to do. Another example is Ignaz Moscheles, who happily added wind parts (including clarinets!) to the orchestral accompaniment of the Harpsichord Concerto in D  minor by J.S. Bach (performed on a piano). The aim was of course to rescue this music from obscurity by improving it for the modern taste.
Mark Kroll is a highly experienced researcher and trusted author on Early Music. I would recommend this little volume to both a wide audience and to musicians and musicologists who already know something on the subject. It paints a vivid picture of musical life in Britain between 1750 and 1850 for all interested readers, but on the way I found many interesting details on organ pedalling in early 19th-century England; choir and orchestra setups; the use of the clavichord in the 19th century; pianists playing harpsichord around 1800; tuning and temperament; etc. etc. A valuable contribution that shows the start of the interest in Early Music in Britain and the commonly held views of those times. 
-Ton Koopman, Boston Musical Intelligencer, December, 2022
In this entertaining, informative book, Mark Kroll provides a vivid account of performances of the music of Bach, Handel, and Scarlatti in Great Britain between the years 1750 and 1850…Kroll…brings together a trove of valuable information, interweaving accounts of concerts, publications, music manuscripts, and pedagogical treatises with amusing anecdotes from contemporary diaries and letters…Four valuable appendices present records of this era's performances…Through quotes from diaries and newspapers, Kroll sketches a vibrant portrait of concert life in Britain…Kroll also provides information about the obstacles musicians sometimes faced in presenting this music premium musik herunterladen.
Mark Kroll's book is an engaging read and meticulously researched, full of a wealth of details about the performance of the music of Bach, Handel, and Scarlatti in Britain between 1750 and 1850. His study brings this wide variety of source material together for the first time, giving us a glimpse into the intriguing history of the music's reception and the aesthetics guiding British interest in early music during this period.
-Charlotte Mattax Moersch,  Early Music America, February, 2023.
 Johann Nepomuk Hummel: A Complete Theoretical and Practical Course of Instructions on the Art of Playing the Piano Forte 
Annotated Facsimile of Part III
 
Pianists unfamiliar with Mark Kroll's  exemplary career — he has just received the Howard Mayer Brown Award for Lifetime Achievement in the Field of Early Music from Early Music America — may ask themselves why the plum portion of the premier piano treatise from the first half of the 19th century is being published as part of a "Historical Harpsichord Series." The answer may be as simple as "because the annotator is Mark Kroll." While Kroll is known to many music lovers for his recordings of harpsichord music from François Couperin to Henri Dutilleux, others may not be aware of his definitive 2007 English-language biography of Johann Nepomuk Hummel. Hence, Kroll — who has also authored or edited two important books on the history of the harpsichord — is single-handedly carrying the Pendragon Series to its next logical milepost.
…until now, no English-language version of Part III — the portion directly concerned with actual performance — has been readily available, and certainly not one annotated by a world-class performer-scholar…After almost two centuries, Kroll has for English-language readers filled in a gaping evidentiary hole. Combined with Hummel's own liberally dispensed advice (which, as Kroll points out, is not always as clear as we might wish), this is a volume that should be on the shelf of every serious English-language keyboardist or those who perform with one.
-Robert Winter, Early Music America, May, 2020
The Cambridge Companion to the Harpsichord

"After the successful reception garnered by his Playing the Harpsichord Expressively, A Practical and Historical Guide (Lanham,The Scarecrow Press, 2004), Mark Kroll, in collaboration with illustrious specialists in the field, has recently edited for "Cambridge Companions to Music" a new volume dedicated to the history of the harpsichord: The Cambridge Companion to the Harpsichord hoe gratis ebooken.  Unlike previous volumes, the pedagogical component is omitted in favor of a treatment more attentive to the historical dimension, even where the issues could inspire discussions of a practical nature. I refer in particular to the chapter written by Kroll, "The Harpsichord in Ensemble," where the story of the basso continuo is not reduced to a mere harmony textbook, but rather investigates differences and similarities between various styles and methods, always supported by historical treatises and taking into account the [differing] European geographic perspectives [i.e., national styles]. 
In the chapter on French repertoire from Chambonnières to Royer, Kroll gives a more critical look at frequent erroneous interpretations of the concept of inegalité.  Particularly interesting and timely are his reflections on the connections between rhetoric and music in seventeenth and eighteenth-century France.   
As a whole the volume is designed as a flexible guide to the history of the repertory; the prose is fluent and always presented with passion by all the authors. Furthermore, each essay is self-sufficient, which makes it possible to read even a single chapter without any negative impact on the complete understanding of the subject as a whole." 
-Davide Mingozzi, Ad Parnassum, April 2021
"To my delight, this Cambridge Companion inspired anew my love of the harpsichord. For this monumental book, Mark Kroll has put together a distinguished ensemble of experts who bring impeccable scholarship, imagination, and sensibility to their respective chapters. Approachable and comprehensive, this guide teaches us about the harpsichord's history and construction, role in chamber ensembles, tuning and temperament, and repertoire from nearly every national school.
Kroll…leads us on a whirlwind tour of French repertoire from Chambonnières to Royer, questioning misinterpretations by modern harpsichordists of principles such as inégalité. He rightly underscores the French use of rhetoric — the connection between clavecin music and text. Later in the book, he affords a fresh look at the role of the harpsichord in ensembles, giving a novel perspective on accompanied keyboard music.
The still blossoming world of the harpsichord is made richer by this book."
-Charlotte Mattax Moersch, Early Music America, April 2019
"This new volume in the Cambridge Companion series brings together 17 studies on 'just about every aspect of the harpsichord,' as the editor proclaims, covering a period from the late 15th century to the present…there is also a great deal of important new information, especially about countries and regions that have hardly been discussed in previous studies.
...this book is a valuable addition to the existing literature on this subject, to be commended to every harpsichord student or aficionado."
                            -Thérèse De Goede, Early Music, August 2019
The Boston School of Harpsichord Building.

"As the early-music movement has recently become a fit subject for musicologists, doctoral dissertations and scholarly articles about modern harpsichords and their makers have begun to appear bloody platin herunterladen. Preserving the raw materials of this history is crucial for such efforts…there is much more to be told, and those who knew Frank, Bill, and other figures of the harpsichord re-revival will not be around forever.
Thus, we heartily applaud the prominent Boston-based harpsichordist Mark Kroll…for compiling and editing [this book] of freestanding chapters, essentially oral histories [by those who] worked with the founders of the Boston School, many themselves going on to become notable figures in the early-keyboard world…Kroll serves history well."
                                                   -John Koster, Early Music America, July, 2019
Ignaz Moscheles and the Changing World of Musical Europe. Suffolk, UK: Boydell and Brewer Press, 2014.
"…in his valuable monograph…Kroll's work makes it difficult to comprehend the desuetude into which the name Moscheles and his compositions have fallen. Consequently, both the aficionado and the scholar who encounter this book will undoubtedly have much to learn from it…His work is an important contribution to scholarship, and to literature pertaining to Moscheles and to nineteenth century music…
The most significant aspect about Kroll's work is the material he has unearthed, which will provide the early nineteenth-century scholar with much solace. Moreover, his referencing is meticulous, leaving no room or ambiguity for whomever wishes to consult these sources…it is safe to assume that Ignaz Moscheles and the Changing World of Musical Europe is currently the most complete and accurate account of Moscheles, while paving the way for other research projects on the composer, which may include appraising the underpinning reasons contributing to the disparity between the composer's undisputed contemporary success and posthumous neglect. What Kroll has successfully established here is that, to adopt his own words, "Moscheles was and remains a man worth knowing."
—Majella Bolden, Ad Parnassum, April 2015
"Ignaz Moscheles is Kroll's second major biography of a central, but neglected, figure of early 19th-century music; the first, Johann Nepomuk Hummel: a musician and his world (Lanham, MD, 2007), provides a natural source of comparison with this new book…Kroll presents a highly affirmative portrait of Moscheles, reinforcing the existing image of him as a man of unimpeachable musicianship and sound ethics, devoted to his family, and frequently assisting fellow artists…The biographical chapters display the strengths of Kroll's scholarship as exemplified in the Hummel biography, coalescing around the masterly handling of a panoply of primary and secondary sources…The seventh chapter, on Moscheles's fascination with early music and his 'invention' of the solo piano recital, is particularly illuminating and thorough…Kroll is surely correct to assert that the soirees "played one of the most important roles in launching an early music revival in the 19th century that continues to this day."
He is particularly keen to challenge the traditional view of Liszt as "inventor" of the solo piano recital: Moscheles began his series three years earlier… Moscheles was of course genuinely pioneering in his use of a 1771 Shudi-Broadwood harpsichord; it does indeed seem likely that he was "the first person to perform publicly on the harpsichord in England since the 18th century"…In appearance, Kroll's biography is handsome, and is sumptuously illustrated with portraits alongside tables and the occasional musical excerpt…I predicted that my copy of Kroll's Hummel biography would frequently be taken off my bookshelves for consultation, and this has certainly turned out to be true. I would make a similar prediction for his latest book on Moscheles."
—Rohan H.Stewart-MacDonald, Early Music, May 2015
"Mark Kroll, who has already given us scholarly editions and a thoroughly interesting biography of a slightly earlier keyboard titan (Johann Nepomuk Hummel: A Musician's Life and World), has turned his attention to the man called by the Boston-based Dwight's Journal of Music "the Nestor among pianists." Kroll brings Moscheles to life, documenting not only his pianistic triumphs, but also his administrative tribulations, especially those with the Philharmonic Society, and even throwing in a tempting menu the composer enjoyed on one of his last trips. Fascinating reading, and highly recommended."
—Kenneth Slowik, Early Music America, Spring 2015
"Ignaz Moscheles [has] never been the object of a serious biography…the originality of this biography is that it reveals the multiple activities of this indefatigable musician, pianist, orchestra conductor, advocate of the music of Beethoven and proponent of Mendelssohn's, one who introduced early music and, before Liszt, the piano recital…Written with a fluidity and clarity welcome to the French reader…Kroll has recreated with remarkable care and thoroughness the career of [Moscheles]… the link with Beethoven, his friendship with Mendelssohn, his organization of historical concerts and the invention of the recital and, finally, his Jewishness…This book…provides a new light on European musical life in the nineteenth century through the prism of the activities of one of its key players [for] all those interested in the cultural life of the nineteenth century."
—Laure Schnapper, Revue de musicologie, tome 101 (2015)
Mark Kroll's book [is a] high-standard study by an author who once again proved his remarkable ability to highlight figures who have been unjustly pushed into the sidelines of history. Mark Kroll knows how to restore their reputation, to show their contribution to the culture within which we ourselves grew, and continue to convey it further. The author had already done it successfully, especially with Hummel in his five-hundred page Johann Nepomuk Hummel: A Musician's Life and World (Lanham, MD: Scarecrow Press, 2007), and he did it again with Moscheles herunterladen.
There was so much expanse for deep research in archives and contemporaneous newspapers— which was meticulously done—that the result became a substantial critical revision of previously available materials. And much more.
Kroll's text is good prose, friendly, but without familiarity. It draws the reader closer to the epoch and the epoch closer to us. Reading the book, we palpate and smell the world in which that great musician lived and worked.
And here comes the key word from the title that does not appear among the key words: Changing. "And the Changing World" says the title. The question whether the world of music changed by itself during Moscheles's life, or if somebody, and there was no one more than Moscheles himself who brought so many dramatic changes into this world that perhaps it would not even be an exaggeration to re-word the title to read Moscheles Changing the World of Musical Europe. Indeed, we learn that Moscheles was mainly responsible for many crucial features of modern musical culture.
The entire book, while being a marvelous biography, is extremely valuable contribution to the history of European music in general.
—Marina Ritzarev, Min-Ad: Israel Studies in Musicology Online, Vol. 13, 2015-16
Johann Nepomuk Hummel: A Musician's Life and World. Lanham, Maryland: Scarecrow Press, 2007.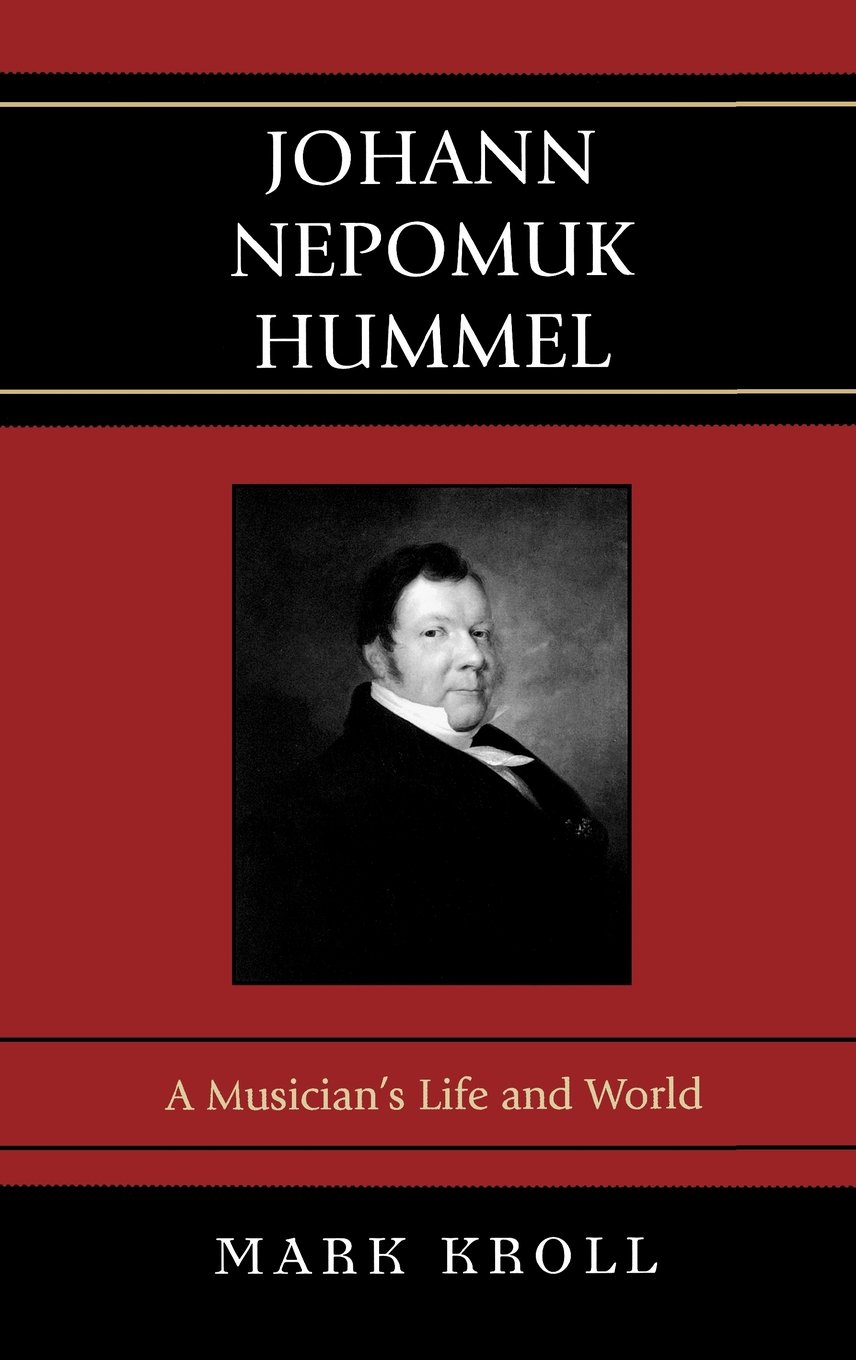 "This book is [most] welcome, [the] first to cover all aspects of the life and career of Hummel… [Kroll] has supplied a wealth of information… and uncovered unpublished documents of great interest… [it] explores the relationship of Hummel and Schubert… the chapters on Hummel's relations with Schumann, Liszt and Chopin will also be of interest to specialists of Romanticism… It was time to shed light on a composer who occupied a central place in his lifetime, and paved the way for musicians of the Romantic era."
—Laure Schnapper, Revue de musicologie
"[Kroll's] is the first biography of [Hummel] in English. The last as well, one suspects, given its breathtaking comprehensiveness, solicitude for the smallest details, and attractively fluent idiom, all of which militate against the very idea of a subsequent author adequately essaying the topic."
—R. J. Stove, Modern Age Review
"With his publication of Johann Nepomuk Hummel: A Musician's Life and World, Mark Kroll has filled an important gap in the literature… its undeniable status as the only English-language biography on Hummel makes it an extremely important addition to any library with a music collection usenet.nl free. It should prove useful to anyone interested in Hummel or in any one of the composers among his circle of friends and associates."
—Jarl Hulbert, Notes
"… just to have a convenient collection of remarks by Mozart, Haydn and Co., including Goethe himself, is a treat for the reader, who will find here many a vivid vignette of people, places, and events… Especially helpful are the… musical extracts comparing Hummel with others… [and] the brief comparisons here with real composers (Schubert, Chopin, Schumann)."
—Peter Williams, Musical Times
"… there remains a glaring lack of accessible treatments of certain major figures who were subsequently handled less than kindly by history… in the world of piano music none are more deserving of attention than Hummel… a straightforward presentation of the composer's life and works is the first necessity–and that is what Kroll gives us… his writing style is clear, his footnoting extensive, and his overall chapter organization perfectly cogent… We needed a decent book on Hummel, and now we have one."
—Kenneth Hamilton, Journal of Musicological Research
"Mark Kroll, a renowned keyboard performer in his own right, has…produced the first comprehensive volume about Hummel in English…[it] lives up to its title by presenting not just a biography of this overlooked musician, but considerable insight into the culture of music in Europe during the late eighteenth and early nineteenth centuries… in addition to the interesting narrative of Hummel's life and influence, Kroll provides a rich supply of reference material."
—Allen Whear, The Eighteenth-Century Current Bibliography
French Translation of Playing the Harpsichord Expressively: A Practical and Historical Guide (Strasbourg, France: Les Cahiers du Tourdion, 2015)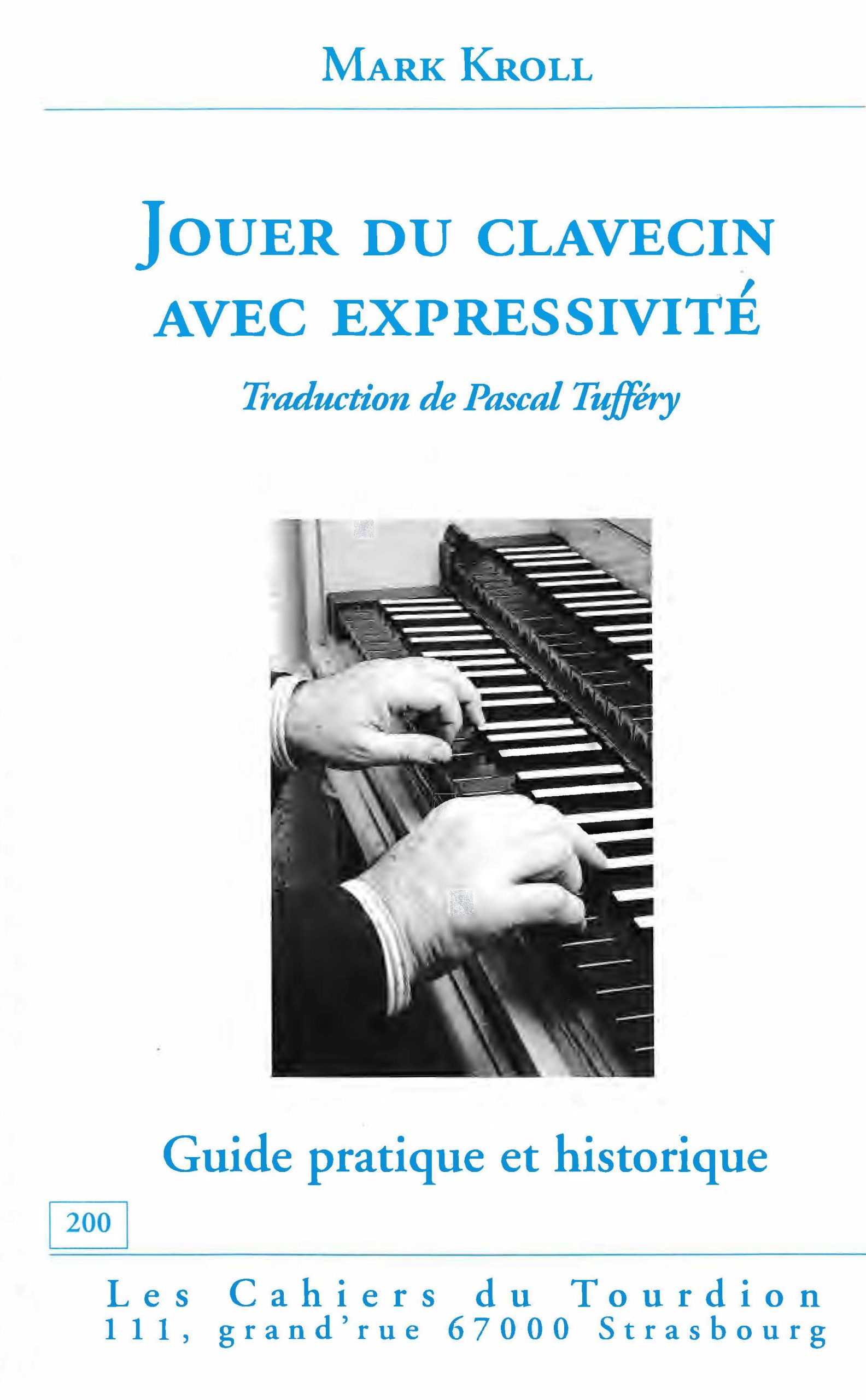 Playing the Harpsichord Expressively: A Practical and Historical Guide. Lanham, Maryland: Scarecrow Press, 2004.
"An experienced teacher and an impressive harpsichordist, anything Mark Kroll undertakes demands respect. His book certainly does that… His admirable aim is not to superimpose expression from outside but to bring out what is there…How right he is… an impressive achievement."
—Jane Clark, Early Music Review
"Kroll has plenty of teaching and performance experience as well as a tangy no-nonsense style… I really enjoyed his take on what to tell present-day performers who want to venture into the past."
—Tina Chancey, Early Music America
"In a little over 100 pages Mark Kroll distills the essence of a long and distinguished career as a performer and teacher of the harpsichord."
—Derek Adlam, Early Music Today
"Kroll's prose is elegant, accessible, and even amusing… teachers and performers alike will welcome this book. The author sets out to provide a practical and historical guide to playing the harpsichord expressively. He reveals himself to be a player of taste and distinction as well as a meticulous and dedicated teacher. In elucidating the most important facets of playing the harpsichord with expression, Mark Kroll succeeds admirably."
—Charlotte Mattax, Early Keyboard Journal
The Beethoven Violin Sonatas: History, Criticism, Performance. Co-edited with Lewis Lockwood. Champagne-Urbana, Illinois: University of Illinois Press, 2004.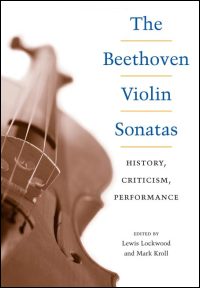 "...the articles are exemplary samples of current musicological methods, approaches, and topics… even in the crowded field of Beethoven literature, this important work looks at a significant niche in Beethoven studies…Recommended."
—A. M. Hanson, Choice
"…Initiates a long-overdue critical appraisal of these works, providing an impressive argument for their significance within Beethoven scholarship…yields new insights about the compositions of this underexplored genre and their relationships to the rest of Beethoven's oeuvre taxfix herunterladen. [It] will provide a valuable guide and companion for musicians, historians and theorists."
—Elizabeth Kramer, Notes
"Mark Kroll's chapter on Beethoven's keyboard legato… provides clear and persuasive treatment of this subject… his obvious understanding of the topic, from the point of view of the performer, whets the appetite for further discussion of keyboard performing practice issues."
—Clive Brown, Early Music
EDITIONS
Francesco Geminiani: 12 Sonatas for Violin and Figured Bass, Op. 4. Brepols, 2016, Geminiani Opera Omnia Vol 4A, GCE7.
Francesco Geminiani: Six Concertos after the Sonatas Op. 4. Brepols.
2020, Geminiani Opera Omnia Vol 4B, GCE12.
 
Johann Nepomuk Hummel: Sonata for Cello and Piano
in A Major, op. 104. Bärenreiter, 2015.
 
"Mark Kroll has edited for Bärenreiter the first critical-practical edition of the sonata… Kroll's meticulous research can be seen in the extensive forward, the numerous details about the man Hummel, as well as performance practices for this sonata."  
Das Orchester, June, 2016
"Cellists who have previously played this work may know the Grützmacher edition and will find many differences in this urtext edition, which is based on the composer's autograph…Background notes and information about performance practices are included in this fine publication."
Stringendo,  October 2016
"The extensive foreword and the critical report provide skillful insight into the problems of performance practice and the contradictions of the sources."
Resonance, October/November 2016
Francesco Scarlatti: Six Concerti Grossi. A-R Editions, 2010.
"Alessandro Scarlatti's younger brother Francesco (1666–1741 or later) has elicited little notice and even less praise from students of the Scarlatti family…[this] publication sheds valuable light on Francesco Scarlatti's capabilities in the instrumental domain."
—Michael Talbot, Early Music
Charles Avison: Concerto Arrangements of Geminiani's Sonatas for Violin, op. 1. A-R Editions, 2010.
"From the second workbook come Avison's arrangements as concertos…of eleven out of the twelve sonatas in Francesco Geminiani's op.1… Avison proves himself to be a skilled orchestral arranger…and these are highly attractive versions of the sonatas that might almost be mistaken as indigenous to the new medium and genre. Their publication is especially opportune in view of the recent inauguration of an Opera omnia of Geminiani's music, to which Kroll's edition will add a useful supplement… Add to this another excellent description of the source and its background in the introduction (which repeats what is said in the Scarlatti introduction no more than it needs to), and the result is a thoroughly recommendable volume."
—Michael Talbot, Early Music
Twelve Select Overtures, arranged for Pianoforte, Flute, Violin and Violoncello by J.N.Hummel. Recent Researches in the Music of the Nineteenth and Early Twentieth Centuries, vol Download the background image for free. 35. Middleton, Wisconsin, A-R Editions, 2003.
Mozart's Haffner and Linz Symphonies, arranged for Pianoforte, Flute, Violin and Violoncello by J. N. Hummel. Recent Researches in the Music of the Nineteenth and Early Twentieth Centuries, vol. 29. Madison, Wisconsin, A-R Editions, 2000.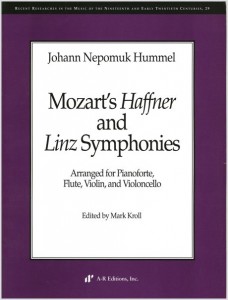 "These editions provides an invaluable resource for any student of commercial musical life in the early nineteenth century… and, together with its companion volume in the series [Kroll's editions of Mozart's "Haffner" and "Linz" Symphonies] it also sheds new light on a significant facet of Hummel's multifarious activities."
—R. H. Stewart-MacDonald, Music and Letters
"We can therefore extend a warm welcome to these two volumes…a further merit of these collections is that they make readily available some once celebrated and now obscure repertory…"
—David Grayson, Notes
Carl Ludwig Junker: Keyboard Concerto in B-flat major, op. 2
Recent Researches in the Music of the Nineteenth and Early Twentieth Centuries, vol. 107, Middleton, Wisconsin

---
CHAPTERS, ARTICLES AND ESSAYS
"Moscheles, Handel and the Performance and Reception of Old Music in Nineteenth-Century England." In Early Music Performer: Journal of the National Early Music Association, 42 (2018), pp. 17-29
"L'Ornament Mystérieux." In Early Music, Volume 45, Issue 2, 31 October 2017, Pages 297–309.
"A Man Outside His Dwelling, A Jew Inside?: Ignaz Moscheles and the German-Jewish Musician in Nineteenth-Century Europe." Ad Parnassum Journal, XIV/28 (October 2016), pp. 21-36.
"Con Furia: Charles Avison and The Scarlatti Sect in Eighteenth-Century England." In The Early Keyboard Sonata in Italy and Beyond (Brepols, 2016).
"On a Pedestal and Under the Microscope: The Arrangements of Beethoven Symphonies by Hummel and Liszt." In En pèlerinage avec Liszt: Virtuosos, Repertoire and Performing Venues in 19th-Century Europe minecraft fortnite herunterladen. Fulvia Morabito, editor (Turnhout, Belgium: Brepols, 2014).
"Johann Nepomuk Hummel." Revised entry, New Grove Online, 2013.
"'You are my Heir:' Geminiani's Influence on the Life and Music of Charles Avison." In Geminiani Studies, Christopher Hogwood, editor (Ut Orpheus Edizioni, 2012).
"On a Pedestal and Under the Microscope: The Arrangements of Beethoven Symphonies by Hummel and Liszt." In Franz Liszt und seine Bedeutung in der europäischen Musikkultur / Franz Liszt and His Position in the European Musical Culture, edited by Markéta Ṧtefková. (Bratislava: DIVIS-Slovakia, 2012). ISBN 978-80-89454-02-0
"Keyboard Instruments." In A Performer's Guide to Seventeenth-Century Music, edited by Stewart Carter, New York: Schirmer, 1997. Revised and expanded edition, Jeffery Kite-Powell (Bloomington: University of Indiana Press, 2012). ISBN: 978-0-253-35706-9
"Johann Nepomuk Hummel: The First Touring Artist," in Auf den Spuren von Johann Nepomuk Hummel, proceedings of the International Conference on Johann Nepomuk Hummel, Bratislava. May 30-31, 2008 (Slovakia: Divis), 2010.
Johann Nepomuk Hummel: A Musician's Life and World. Scarecrow Press, 2007. ISBN 0-8108-5920-3
"Visiting the Frederick Historic Piano Collection" Early Music America 13/4 (2007).
"Hummel the Romantic." Early Music America 13/2 (2007).
"The Master to Whom the World is Indebted." Chamber Music America (2007).
"Two Important New Sources for the Music of Charles Avison." Music & Letters, vol. 86, no. 3 (2005).
Playing the Harpsichord Expressively: A Practical and Historical Guide. Lanham, Maryland: Scarecrow Press, 2004. ISBN 0-8108-5032-X
"Poradnik wykonawcy muzyki XVII w—Instrumenty klawiszowe." In Improwizacja w muzyce Baroku. Warsaw: Bydgoszcz facebook private videos. 2004.
"As if Stroked by a Bow." In The Beethoven Violin Sonatas: History, Criticism, Performance, Edited by Lewis Lockwood and Mark Kroll. Champagne-Urbana, Illinois: University of Illinois Press, 2004. ISBN 0-252-02932-5
"La Belle Execution." In Historical Musicology: Sources, Methods, Interpretations. Edited by Stephen Crist and Roberta Marvin. Rochester: University of Rochester Press, 2004. ISBN 1-58046-111-5
"Old Wine in New Wineskins." Early Music America 9/2 (2003).
"The Self-Help Bookshelf for Historical Performance." Early Music America 8/1 (2002).
"Building an Early Music Library." Early Music America 7/1 (2001).
"Keyboard Instruments." In A Performer's Guide to Seventeenth-Century Music. Ed. Stewart Carter. New York: Schirmer, 1997.
"The French Masters: French Keyboard Music." In Eighteenth-Century Keyboard Music. Ed. Robert Marshall. New York: Schirmer, 1994, reprinted New York: Routledge Press (2003).
"Darius Milhaud: The Composer from Provence." Bostonia Magazine, Summer (1992).
"Tous Les Marais du Monde." Bostonia Magazine, Spring 1993.
"The Quest for Authenticity." Bostonia Magazine, March/April (1990).
"Stravinsky's Craft." Bostonia Magazine, November/December (1990).
Dictionary of Early Modern Europe herunterladen. Edited by Jonathan Dewald. New York:Charles Scribners and Sons, 2003:
"Monteverdi, Claudio."
"Palestrina, Giovanni."
"Schutz, Heinrich."
"Vivaldi, Antonio."
---
INTERNET ARTICLES
Mark Kroll mkroll@bu.edu